We work hard at providing fun, community-minded and family-oriented activities for our customers and friends. Most events are tied to people's love of gardening and nature in general, of course. Sometimes the events revolve around holidays or special days… frequently there is music and food… almost always there are special sales items available… and most times they are just plain fun– sometimes even WACKY!
Upcoming Events:
Please visit https://shop.niepagens.com/product-category/classes-worksops/ to reserve your space today!
Saturday, September 24th at 10am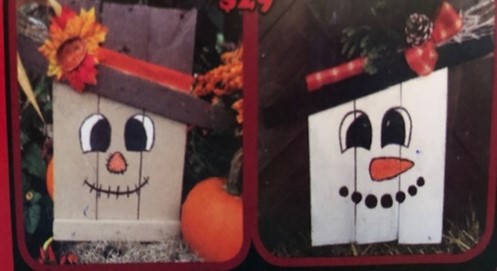 Scarecrow/Snowman Porch Sitter
Saturday, September 24th at 10am
This two sided decoration can sit indoors or outdoors through two seasons! Face the scarecrow in the fall and turn it around to show the snowman in the winter.
Wear old painting clothes and be prepared to have some fun!
Cost is $30.00 which includes all materials needed.
Tabletop Reversible Pumpkin/Snowman Stand
Sunday, October 2nd 1:00pm
This is a great child and adult workshop that will bring you joy every fall and winter season! You and your child will have fun painting and decorating a wooden tabletop stacked pumpkins décor on one side and a wintry snowman on the other.
Be sure to wear old clothes and be ready to have fun!
Cost is $15.00 which includes all the materials you need.

Pine Cone Wreath
Tuesday, October 4th at 5:00pm
Join us for this unique workshop where we'll create a beautiful (and colorful if desired!) pine cone wreath that will last for many fall seasons!
Cost is $20.00 which includes everything you need to make a 14″ wreath.
Refreshments will be served during the class as well!

Pumpkin Decorating for Adults
Saturday, October 15th 10:00am
Sign up for this workshop and you'll take home a beautiful "ribbon covered" artificial pumpkin.
The pumpkin will last for many fall seasons and makes a wonderful centerpiece at your holiday table!
Cost is $10.00 which includes all materials.
Refreshments will be served during the class as well!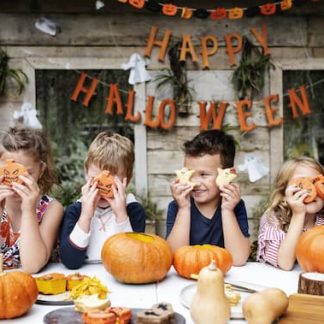 Kid's Fall Celebration
Saturday, October 29th 10am – 12pm
We've planned a day just for kids!  Join us on October 29th from 10:00am – 12:00pm.
Your child will make three different crafts, play a game or two, and have a hot dog/chips/veggie lunch.
This day is aimed at children who are in grades 1-4.
Cost for the morning is $15.00.