Annuals
Nothing adds to the "wow factor" of your outdoor spaces quite like the colorful beauty of annuals. For generations, Niepagen's has been growing and selling outstanding bedding annuals, and we are proud to carry on that legacy by offering you the highest quality and largest selection of annuals in the area.
Whether you are planting a large landscape or looking to add color to your deck or patio with a premium hanging basket or container, sun or shade, we can help you find the right plants that fit your needs. Mix colors, sizes, and textures to create a beautiful piece for your home. With annuals, the only limit is your imagination!
If you are looking to welcome spring with pizzazz, add a pop of color to a shady spot, or choose a plant that will last through the summer, Niepagen's has what you're looking for. With Angelonia to Zinnias and everything in between, our team of experts can help you create a space you are sure to love.
Vegetables and Herbs
Fresh pesto, zesty salsa, and a juicy tomato slice atop your BLT. Hungry yet? These are just a few of the tasty culinary creations you can enjoy with vegetable plants and herbs from Niepagen's. With dozens of tomato varieties, hot and mild peppers, oodles of culinary herbs, strawberries, cucumbers, and everything in between, your home garden will be the talk of the neighborhood with the help of our extensive selection and expert advice.
Along with our large offering of plants, Niepagen's is the place to go for garden seed. Sweet corn, onion starts, seed potatoes, and carrots are just a few of the goodies you'll find in our seed department every spring. Stop by or call to see what's ready to travel from our greenhouses to your garden.
Whether you are an expert green thumb or just getting started, we can help you build the garden of your dreams. Fresh from your garden to your table, home grown produce always tastes better. Let us help you find out what flavor really means.
Perennials
The gift that keeps on giving, perennials from Niepagen's will be there to welcome spring to your landscape year after year. From tried-and-true classics like hosta and daylilies to more unique varieties of natives, groundcovers and perennial vines, we have everything you need whether you are landscaping a new yard or interested in livening up your current outdoor living space. Sourced from some of the finest nurseries in the Midwest, our perennials are both exceptionally beautiful and incredibly hardy, and can help you create a timeless space that you are sure to love for years to come.
Trees and Shrubs
Writer Kahlil Gibran put it best. "Trees are poems that the earth writes upon the sky." Let us help you write your poem. Our selection of high quality trees and shrubs are cultivated at the best nurseries in the upper Midwest and along the Pacific coast before you take them home, and promise to thrive in your landscape. Niepagen's offers the finest selection of fruit trees, evergreens, and shade trees, and are a perfect choice for new or existing landscapes. A tree is more than a simple plant, it can grow to become a memory and legacy, making a long lasting mark on our collective landscape. We can help you leave your mark.
Houseplants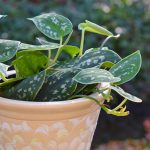 Bring the greenspace indoors! Not only do houseplants make for the perfect home and office decor pieces, their benefits extend to purifying the air, reducing stress and anxiety, and simply putting a smile on people's faces. Whether you are shopping for yourself or looking for the perfect gift, our recently expanded selection of houseplants will have just what you need to help create a beautiful indoor space. From unique succulents to classic foliage plants, a houseplant from Niepagen's offers year-round beauty.
Pottery and Garden Decor
You've picked out the perfect plants, now you need the perfect container to go with it. We've got you covered! Choose from our large selection of pottery to help accent your beautiful plants. Classic or contemporary, large or small, you are sure to find the perfect pot that will fit right in with your deck, patio, or home.
Looking for a chic accessory to add even more personality to your landscape? Our selection of garden decor will help you create a space that is uniquely you.